Looking for some clothing brands that serve comfort with quality?
Check out this guide to help you pick the perfect branded unstitched collection! The article explains how to look at different types of fabrics offered by your favorite brand, and how to select the best one.
Why Prefer Unstitched Collection?
The unstitched collections are the center of attention because they provide comfort and can be styled in many different ways. With so many options to choose from, it can be hard to find the perfect outfit that makes you feel beautiful and confident. That is why this article focuses on high-quality clothing brands that fit well and make you look your best while being easy on your pocket.
Limelight Collection
The latest fashion trends and fabric choices available in the market make it difficult to pick out which one suits you best. The goal is to select the perfect fabric that not only looks good on your clothing but also goes with your personality. Limelight brings the colors and prints that make anyone's wardrobe pop like never before!
Limelight is a brand that was launched in 2010 by Maypole Pvt ltd. to fill the market gap for an affordable brand. Ever since its launch, the limelight has been one of the leading retail brands in the fashion industry, with about 70 outlets in Pakistan. The collection is also available at stores like Raja Sahib that further helps to spread the word!
Gul Ahmed Collection
Similar to Limelight, the Gul Ahmed collection is also one of the leading brands in the Pakistani fashion industry. Gul Ahmed is a brand that has been in the fabric industry for a long time and provides great quality fabric at affordable prices.
The Gul Ahmed collection for this year has a unique essence. You can see amazing colors, prints, and effects on these fabrics that provide an extravagant look to the cloth. The Gul Ahmed collection 2021-22 includes lawn, chiffon, velvet, and silk fabrics with unique designs and embroideries by using yarns of different colors to give you a luxurious impression.
Zellbury Collection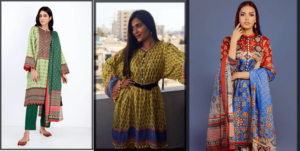 Zellbury has been a part of the textile industry since 1992 and has been serving the best quality fabric. The Zellbury collections are just too good to be true! The quality, the comfort, and the cut are what make it so special. Public demand for the collection is growing rapidly as it satisfies the customers for all the occasions.
The prints are attention-grabbing and the choice of color palette is exceptionally beautiful. The fabric can be tailored according to choice and fittings.
Brands at Raja Sahib
Raja Sahib offers a wide range of collections and styles for your wardrobe. It is a brand name that has been serving the retail industry since the 1970s. It has a wide range of products for women, men, and even children. You can look for all you need with a peace of mind as product quality is never compromised at Raja Sahib!
Visit us today online to see everything we have in store!